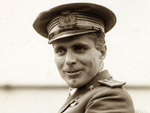 Umberto Nobile was born in 1885 in Lauro. He was an italian explorer and engineer, professor of Aeronautical Construction at the University of Naples for over three decades. He was director of the Military Establishment of Aeronautical Constructions in Rome from 1919 to 1928. As General of the Corps of the "Genio Aeronautico", engineers of Military Aeronautics, he became famous to the public for accomplishing the first flight across the North Pole on board of airship Norge, designed and piloted by him. The same flight was repeated in 1928, on board of airship Italia, however this flight ended in tragedy. He was a member of the Constituent Assembly. Umberto Nobile died in Rome in 1978.
Umberto Nobile was born in Lauro, Avellino on January 21, 1885. Son of Vincent, who worked at the Registry Office, and Maria La Torraca; both parents were from Eboli. His family travelled through Campania a lot due to his father's profession. He studied industrial mechanical engineering at the University of Naples. During this period he attended the home of the Republican philosopher Giovanni Bovio, father of his classmate Libero. He graduated in 1908 with top grades and specialized in electronics. He was offered prestigious jobs which he refused in order not to leave his mother who had fallen very ill in those years. He started working for the railways in Naples as an inspector and focused mainly on the electronics department. In 1911 he began working on aeronautical engineering in Rome, working on projects building airships for the army and navy. During the war he work as an expert consultant on aerostatics. In 1916 he married Carlotta Ferraiolo and in 1917 they had their only daughter, Maria. In 1917 he was nominated vice-president of SCA, and one year later he became president. He created some important improvements for parachutes. In 1922 he approved of the first metal airplane in Italy, the Ca 73.
He became world famous for his expedition "Amundsen - Ellsworth - Nobile Transpolar Flight", which completed the first ever north pole crossing with no stops. The expedition was lead by the norwegian Roald Amundsen and sponsored by Lincoln Ellsworth, using Nobile's N-1 airship. The airship had a volume of 18.500 cubic metres of gas, and was more than 100m long, 24m tall and 18m wide. It was three engines, each one with 245hp and reached a speed of 80mph. The investments weren't enough to fund the expedition and mussolini intervened to save the mission. Eventually the airship was sold to Norway and was named Norge.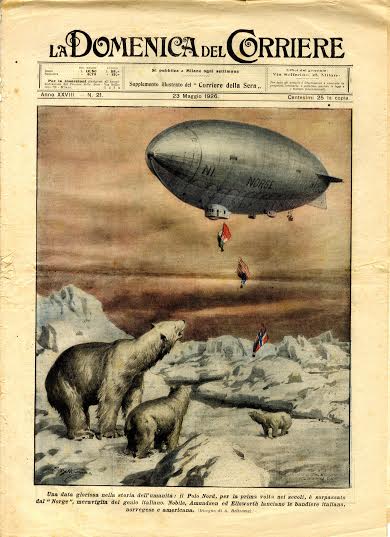 At 9.22 am on 10 April 1926 the airship Norge, with a crew of 21 people: nine Italians, 7 Norwegians, one Swede, one Russian, one French and one British, under the command of Colonel Umberto Nobile began his flight from Ciampino, stopping at Pulham (England), Oslo, Leningrad and Vadso (Norway) to arrive on May 7 the Svalbard Islands. From here, also boarded the Norwegian explorer Roald Amundsen and Lincoln Ellsworth American sponsor, the Norge resumed flight on May 11, and came over the North Pole on May 12 at 25.01 (GMT). In about a month and almost 170 hours of flight, starting from Rome, the Norge reached the North Pole after traveling 12,600 km of which 5,300 direct flights. They continued as planned to Alaska and landed two days later in Teller, rather than Nome, due to adverse weather conditions. After the triumphal reception in New York, following the Norge expedition, Nobile returned to Italy, where he was promoted to major general by Mussolini's Aeronautical Engineers. On 15 August 1926 he went to Eboli, the city where he spent his youth, to receive the homage of the City: inauguration of a street named after him and that still bears his name and received the honorary citizenship.
Nobile went back to the North Pole as leader of the Italia airship Italia. This was a scientific expedition and left from Milan on 15 april 1928. Captain Gennaro Sora was following the expedition from land. They reached their destination one day later and a holy cross and an italian flag were thrown to the ground. They were no able to land due to the harsh weather conditions. They started their return but as they approached Norway they crashed agains some ice. The survivors were stranded for seven weeks until they were found by the international rescue missions.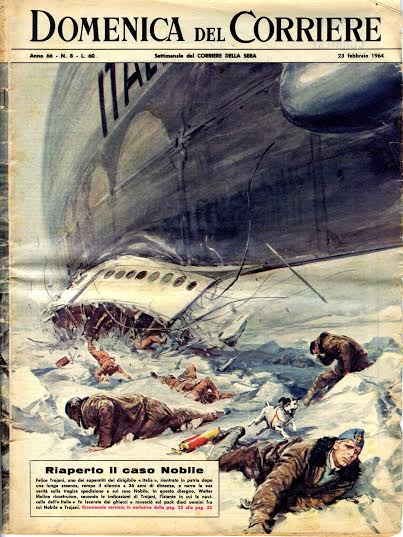 Nobile, having been rescued first and prevented from helping rescue the rest of the team became angry at how the regime had dealt with the situation (he had never shown enthusiasm for the regime). He rejected all compensations and pensions offered to him by Mussolini and decided to leave Italy in 1931.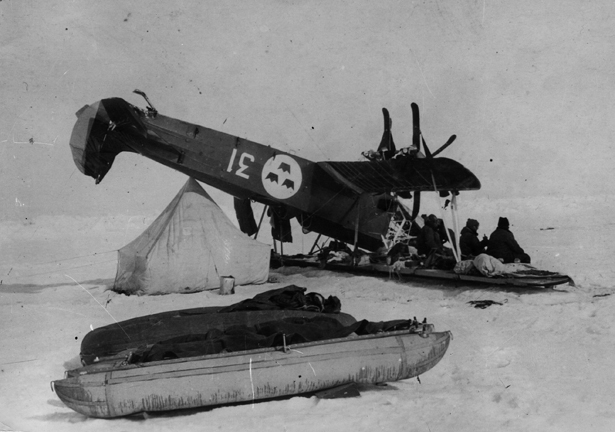 He moved to the Soviet Union and collaborated on the URSS W6 OSOAVIAKHIM project. He then moved to the United States where he was greatly appreciated. He also lived in Spain where he held conferences at universities and research centres. In 1944, after the fall of the regime he moved back to Italy and was able to solve all conflicts that were created back in 1928 and he was given the role of general Major of Aeronautics. In 1946-1948 he became involved in the Comunist Party and was able to promote scientific research.
After this he abandoned politics and went back to teach at the university of Naples. In 1959 he marries Gertrude Martha Elise. He continued working until the very end of his days when, in 1978 he died peacefully at the age of 93.