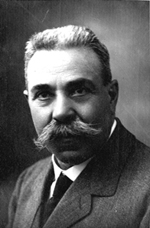 Giacinto Romano, born 26th october 1854, was an italian historian and professor at the Universities of Messina and Pavia, where he is remembered as a reformer of the studies of medieval and modern history. He is best known for his studies on the evolution of italian politics, the importance of the Signoria (form of absolutist regime, almost always hereditary, which started in many Italian cities and states in the fourteenth and fifteenth century) and of the political and territorial power of the Church and its struggles against the nascent modern states. He coordinated, in 1919, along with Gaetano Salvemini and joined by the likes of Croce and Gentile, an innovative work: History of Italy; representative of a new course of historiography. At the sight of the italian participation the the great war it set out to rewrite the spiritual and social history of the Italian people.
Giacinto Romano was born October 26, 1854 at Eboli, where he attended primary school. After obtaining his baccalaureate in Salerno, he joined the faculty of Arts in Naples, having Settembrini, De Blasis and De Santis as professors. He interrupted his studies for 5 years to join the military service as a cavalry officer, after which he returned to Naples and completed his studies. He was a history teacher in high schools of Monteleone Calabro, Messina, Milan and Pavia for fourteen years. He then became a professor for four years at the University of Messina and twenty years in that of Pavia, where he was elected Councillor for Education. He introduced major reforms in the schools her worked in and, for some time, he was also deputy mayor.

His first works was printed in Naples in 1882, it was a short note about the historical background of a novella by Boccaccio which he happened upon while studying "Relations between Italy and Southern Tunis under Norman, Swabian and Angevin Kings. " He published it in the high school paper in Monteleone Calabro: a monograph of a young man just out of university, an admirable survey conducted on a large number of Latin and Arab chronicles, stories and collection of documents. Among the many historical figures Frederick II stands out, presented as "forward thinking and wonderful example of the modern world is the first to break the barriers of feudalism, manages to make people coexist in peace, believers and non-believers, Christians and Muslims together. The prince fighting the Church in the name of reason, which proclaimed freedom of worship, the emancipated serfs, protected the science and poetry, and gave refuge to those which the Roman Curia had removed independence and homeland. "

Another work is the "Chronicle of the stay of Charles V in Italy from July 1529 to April 1530". Soon after was released "Sister Mary Domitilla", the visions and the ecstasy of a Capuchin of Pavia, where the Catholic restoration in the second half of 500 took place.

During his years of teaching in Messina he wrote one of his most important works, "Messina nel Vespro Siciliano", published in 1896. In Pavia, in 1889 and 1899 the main topic of his research was dedicated to the Viscount history. One of his major works is related to these studies, the unknown stories of Niccolò Spinelli di Giovinazzo's life. After this very active decade of his life the volume of his work seemed to decrease. This was because he was silently writing a work on the Barbaric Dominations, a history of italian politics from 395 to 1024. It was published in 1909. Another of his works was "studies of modern history in the past fifty years", published in 1912.

Giacinto Romano died in Milan on February 7th, 1920. On the day of his funeral his students mourned him and praised him for his work.