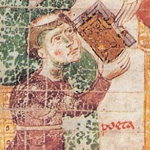 Pietro da Eboli was a medieval poet close to the Swabian court. He was born between 1150 and 1160 in Eboli, which he intensely loved. He was loyal to the politics of Emperor Henry VI, who's victory of Sicily he celebrated in the Liber ad honorer Augusti, composed in 1195. He dedicated to Federico II, Henry VI's son, his poem "De balneis Puteolanis". At the end of this poem we are informed of a previous work, to us unknown; a poem praise of Federico Barbarossa.


Pietro da Eboli's life is poorly documented, as so are the exact dates of his birthday and death. Along with his cultural background he also had medical skills, proved by his studies at the renowned Medical School of Salerno. It is questioned by many wether he in fact was a doctor or if he just had wide medical skills. Some say he must have been because of the detail given in some of his poetic work such as the "De Balneis Puteolanis" where he describes the benefits of bathing in the Pozzuoli wells. From the few things recorded about the poets life we know that he owned a windmill which he had inherited from Emperor Henry and which he left to the Church of Salerno upon his death.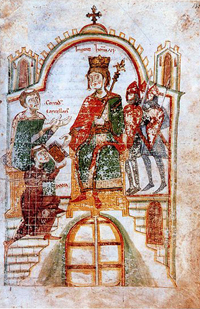 In miniatures from the poem (46-139a and 47 -140a) Pietro's clerical attire leads us to believe he might have been a priest. Furthermore, from the decorations on his tunic and the fibula holding his mantle on his left shoulder one could think he was an ecclesiastical person with high authority such as an Imperial Chancellor as Corrado di Querfur was. For Eboli he obtained the privilege of the Imperial recognition; becoming imperial property the city became untouchable.
A lapidary inscription found by historian Augelluzzi between the documents of primicerius Pisciotta in a chapel of property of the S.Francis monks, lead him to believe that within Eboli, the body of it's beloved poet might still be found. Scholars from all over Europe flocked to Eboli for this but soon enough it was determined that the document was of more recent times and contained several historical errors.
Pietro da Eboli was always loyal to the reign of Enrico VI, to whom he dedicated his Liber as honorer Augusti or "Carmen de Rebus Siculis", a work divided into three books in which he celebrated the conquering of the Kingdom of Sicily and in which he weaves praise of the Emperor.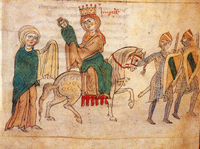 "De Blaneis Puteolanis" is also attributed to Pietro da Eboli.